Early Childhood Care and Education with Regional Focus on Africa and the Middle East
2019年12月6日更新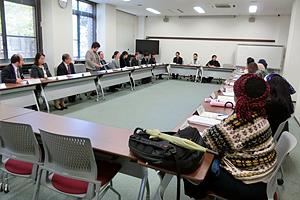 From November 11 to December 6, 2019, Ochanomizu University conducted a training workshop in early childhood care and education for a group of 10 administrators and educators from Cameron, Egypt, Jordan, Liberia, Madagascar, and Santome and Principe, as a program commissioned by the Japan International Cooperation Agency (JICA). The 10 participants were government officials, school inspectors, faculty members of teacher training schools, in early childhood services in a leadership or supervisory capacity in their native countries.
Ochanomizu University had been providing training to support 'Early Childhood Education in the countries of francophone West and Central Africa' from 2006 till 2017, and the succeeding business of this training began last year.
As experts throughout the international community have recognized the importance of an integrated approach of childcare and education from infancy onward, aid for ECCE (early childhood care and education) in developing countries has gathered momentum. Unfortunately, the region of Africa and the Middle East is hobbled by a shortage of qualified professionals in this field.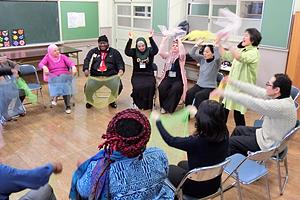 In an effort to help develop human resources for ECCE in the region, Ochanomizu University held a training program consisting of lectures, observation tours, and workshops on ECCE and early childhood support in Japan, covering systems and policies, day-care/nursery school curriculum and teaching methods, teacher training, and program evaluation, all aimed at enhancing participants' knowledge and skills in the area of early childhood support.
A post-training questionnaire was given to participants to assess their satisfaction with the program and their attainment of the learning goals of its six units; (1) identifying and classifying organizational problems; (2) concepts, substance, and trends in ECD (early childhood development); (3) issues of disparities in early childhood education and their solutions; (4) developmentally appropriate day-care/nursery school curriculum, teaching methods, and teaching materials; (5) teacher education and training system; and (6) evaluation of early childhood education. Responses indicated a high level of attainment of learning goals in each area and a high degree of satisfaction with the program. Back home, participants will use the action plans they presented on the final day of training as a basis for applying what they learned to their own countries.