Schedule of Summer Program 2019
2019年7月18日更新
<Update>
The program schedule was updated on 18th July, 2019.
Program Calendar
Date
Time
Contents
Venue

July 27th (Sat)

12:15-13:30

13:00-16:00

16:00-18:00

Registration

Orientation

Welcome Perty

Hisao & HirokoTaki Plaza 2F
Multipurpose room


Cafeteiror

July 29th (Mon)―August 3rd (Sat)

9:00-12:10
Lectures
Gender(Plaza Multipurpose room 2F)

Life style(Plaza 3F Seminor room)

Natural Science(Fuculty of Science Buillding 3 room 207, 208, 209)

Japanese (TBA)

August 2nd (Fri)

13:00-16:30
Field Study

August 7th (Wed) & 8th(Thu)

13:30-
Project work Presentation Session
Plaza Multipurpose room 2F

August 9th (Fri)

10:00-12:00
Closing Ceremony & Farewell party
Inter-Fuculty Building 2,
room 101
Program Schedule
The detailed schedule for Summer Program 2019 is posted here. Please note that there might be changes in the schedule.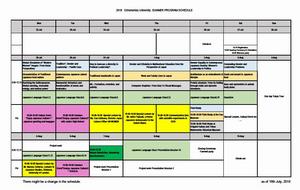 Click Here to download the schedule of Summer Program (PDF)
Program time table for the attendees of Summer program 2019
関連ファイル / Related Files
»
2019timetable20190718(PDF形式 94キロバイト)
PDFファイルの閲覧には、Adobe Acrobat Reader DC(新しいウインドウが開き、お茶の水女子大学のサイトを離れます)が必要です。