Report on 3rd Seminar in the Bhutan Seminar Series 2021
2022年1月17日更新
At the third event in the Bhutan Seminar Series for 2021, held on August 30, we welcomed Secretary General of the Japan-Bhutan Friendship Association Chiiko Watanabe. After an explanation on key points from Ms. Watanabe, we watched a 2012 episode from the travel program Tabi no chikara entitled "Sacred dance in the 'happy country': Kingdom of Bhutan by a traveler, USA (EXILE)." Ms. Watanabe then provided a commentary on the documentary and answered our questions.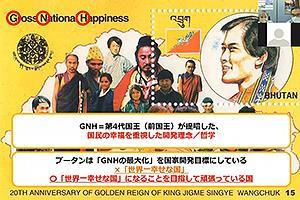 Image 1: Bhutan's development philosophy
The documentary focused on Cham, a sacred mask dance performed at certain Bhutanese festivals. We learned that the dance is not an entertainment but rather signifies a prayer for the happiness of loved ones and members of the audience. The program also gave us a glimpse into the emotional conflict experienced by USA, a performer in the band EXILE, in response to the special meaning of the cham dance and the warmth of the villagers supporting him through his experience, drawing us into the world of Bhutan.
Ms. Watanabe's commentary after the documentary included an introduction to the festivals held in the various parts of Bhutan and highlighted the often-overlooked cultural differences between the eastern and western regions in Bhutan. Participants were enthralled by the way in which the commentary drew on Ms. Watanabe's real experience, and the questions were even more numerous and varied than at previous events in the series, which created a fulfilled mood.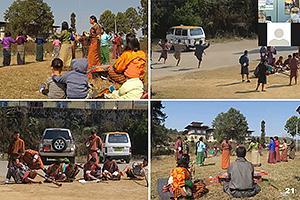 Image 2: Practicing for the festival
A post-event questionnaire conducted for the first time in this Bhutan series saw all respondents agreed that they had been able to enjoy the seminar regardless of their knowledge of Bhutan. One participant commented that the relaxed atmosphere had made it easy to ask questions, while another felt more optimistic in the difficult conditions of visiting Bhutan at the moment due to COVID-19. Others wanted to know more about Bhutan's struggles and problems as well as the good aspects of the country. These responses will be very useful in organizing further seminars.
(Rinka Yamashima, first-year student, Department of Psychology,
Faculty of Human Life and Environmental Sciences)