Report on 5th Seminar in the Bhutan Seminar Series 2021
2022年2月18日更新
At the fifth event in the Bhutan Seminar Series for 2021, held on October 23, we welcomed Hiroshi Takahashi, a researcher at the Japan Institute for Bhutan Studies and editor of the Bhutan edition of the Chikyu-No-Arukikata Series (Globe-Trotter Travel Guidebook) as a commentator and we watched "A Japanese Man Loved by Bhutan: The Miracle of the Happiest Country Through the Eyes of Osamu Mukai," which was broadcast on television in February 2018.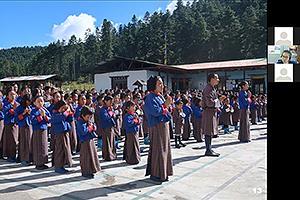 PHOTO 1: Video introduction
by lecturer Takehiro Hirayama
The documentary was about Keiji Nishioka, a Japanese man who is known as the father of Bhutanese agriculture. Nishioka was sent to Bhutan in 1964 as an agricultural expert. Until his death there in 1992, he continued to support and transform Bhutanese agriculture and the lives of local people in many different ways, including introducing new crop types, mechanizing and modernizing farming, and providing advice on food processing methods. In recognition of his achievements, he was given the title of Dasho, Bhutan's highest honor, by the Bhutanese king.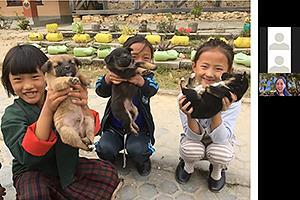 PHOTO 2: Commentary by Hiroshi Takahashi
From stories of the Bhutanese people expressing their gratitude by naming a bridge after him, the "Nishioka Bridge," as well as a soccer team, the "Nishioka Boys," it was clear that Nishioka is still greatly respected in Bhutan.
The documentary was followed by a commentary from Mr. Takahashi and a Q&A session. We learned not just about Keiji Nishioka but also Bhutan's topography and the gho and kira, Bhutanese men's and women's traditional dress.
The Bhutan Seminar Series have always provided a chat room for questions and comments. This particular seminar attracted an unusually large number of comments, which gave us a feeling of becoming more of a two-way exchange. In the post-event questionnaire, since we discovered that a lot of participants didn't know how to ask questions in the chat room, we plan to explain this where necessary in the future seminars. Because fewer Ochanomizu University students attended this seminar this time, we will work harder on advertising the event so that more students participate from now on.
(Rinka Yamashima, first-year student, Department of Psychology,
Faculty of Human Life and Environmental Sciences)