Report on 9th Introduction to NPO Activities Seminar 2021
2022年2月17日更新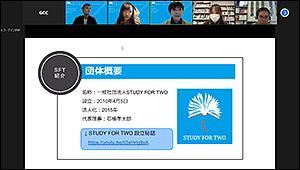 PHOTO 1: Presentation by Taisuke Shigyo
At the ninth Introduction to NPO Activities Seminar 2021, held on November 20, we welcomed Taisuke Shigyo, student representative for the Study for Two (SFT) initiative and a third-year student at Hiroshima University, Koudai Kitano, SFT deputy student representative and a second-year student at Kanazawa University, and Yuriko Naito, former SFT Kantō region representative and a fourth-year student at Ochanomizu University. Unlike the previous NPO Activities Seminars, this time we heard from current university students. Because the seminar was held as part of an AY2021 inter-university event between Nara Women's University and Ochanomizu University, we heard reports on the activities of both universities' chapters of SFT in the second half of the seminar.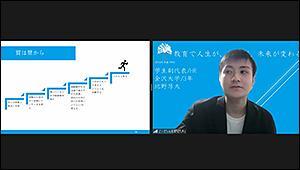 PHOTO 2: Presentation by Koudai Kitano
Taisuke Shigyo spoke about the actual circumstances of education support and SFT activities, while Koudai Kitano presented on participation in student associations from a career perspective and Yuriko Naito discussed her involvement with the SFT as an Ochanomizu student. All three students spoke very frankly about the strengths and challenges from a university student perspective, and the seminar attracted a flood of questions, impressions, and agreements from participants through a chat room.
After the seminar, the Nara Women's University and Ochanomizu University chapters of the SFT held a get-together session and exchanged views on how to run activities during the COVID pandemic and so forth. , This was a meaningful time because we didn't have many opportunities to interact even though the two universities are both national women's universities.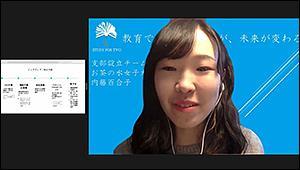 PHOTO 3: Presentation by Yuriko Naito
In the post-event questionnaire, we asked participants about: their degree of satisfaction with the seminar; how easy it was to ask questions; messages to our speakers; what was good about the seminar; what could be improved; and what organizations they would like to hear from in the future. All respondents said they were either satisfied or very satisfied with the seminar, and positive feedbacks include "I liked the easy and relaxed atmosphere," and "I could feel the enthusiasm of the speakers." Time management was identified as an issue to be improved for the future seminars. We will be looking at ways to achieve this going forward.
(Rinka Yamashima, first-year student, Department of Psychology,
Faculty of Human Life and Environmental Sciences)