Report on 6th Seminar in the Bhutan Seminar Series 2021
2022年5月2日更新
Our guest at the sixth event in the Bhutan Seminar Series for 2021 held on November 27 was Yoshiki Ishiuchi from the Graduate School of Asian and African Area Studies at Kyoto University. We watched two episodes from "Themes Around the World: Bhutan, In Search of a Celestial Kingdom," specifically "Part 1. Road to Merak, An Uncharted Land" and "Part 2. Golden Langurs and Black Yaks." This series, which is entirely in English, was produced in South Korea and screened in 2014. The screening was followed by a commentary from Mr. Ishiuchi.
A new experiment this time was to explain the chat function for those participants not familiar with it. In the post-event questionnaire, all respondents felt that they had been able to enjoy the seminar regardless of how much they knew about Bhutan. Many also noted that they had appreciated the rare opportunity to hear about a research project and about real life in Bhutan. They enjoyed the focus on eastern Bhutan as a part of the country seldom spotlighted, as well as the choice of an overseas documentary.
In terms of what we could improve upon, there are still some participants who don't feel comfortable asking questions and there could have been more Ochanomizu participants. Some participants asked for a catch-up viewing service to be provided and reference works and websites suggested for participants who want to deepen their knowledge further after the seminar.
(Rinka Yamashima, first-year student, Department of Psychology,
Faculty of Human Life and Environmental Sciences)
During filming, the crew set out for Bhutan from Guwahati in the Indian state of Assam. They enter the country from Samdrup Jongkhar, which is known as the eastern gateway to Bhutan, and from there they visit Merak in the Trashigang District.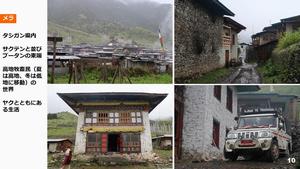 Image 1: Explanation about Merak
The filming was done in September, which is Bhutan's rainy season, and getting around by car was clearly a struggle. We see the crew trying to get the car through terrible mud and rockfalls, all the while pelted by heavy rain, but the locals helping the crew seem to be enjoying the situation and are so generous in their support until the car is moving again, really highlighting the warmth of the Bhutanese people.
The Merak footage offered a glimpse into the lives of local people and their yaks. The way that the locals interact with the yaks and the respect that they show them made it apparent that the locals and the yaks are quite literally co-existing. The people of Merak seem very noble-spirited. They wear a different ethnic dress to the gho and kira known as Bhutanese traditional dress, leading us to reflect on the cultural diversity within Bhutan.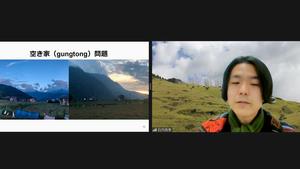 Image 2: Commentary by Mr. Ishiuchi
In his commentary, Mr. Ishiuchi spoke mainly about his experience of studying and researching in Bhutan. There seem to have been a few incidents when he was living in the student dormitory, but from the photos and his explanation, he clearly had a great time interacting with Bhutanese students and also learned a lot. We learned about issues that are currently emerging in Bhutan, including empty houses and the maintenance of village temples. Participants loved Mr. Ishiuchi's description of his research on migration, which was extremely interesting. He was also very generous in his answers to participants' questions.
Overall, it was a terrific seminar that taught us a lot.
(Airi Yamamoto, first-year student, Department of Languages and Culture,
Faculty of Letters and Education)