Report on 10th Introduction to NPO Activities Seminar 2021
2022年5月6日更新
At the 10th Introduction to NPO Activities Seminar 2021 held on December 7, we welcomed Sayumi Ōta and Riko Mihara, who are both second-year Educational Sciences students in Ochanomizu University's Human and Social Sciences Department within the Faculty of Letters and Education.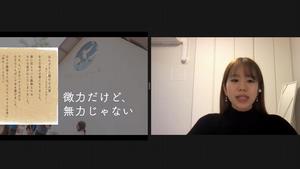 PHOTO 1:Intern report by Ms. Mihara
In the first half of the seminar, Ms. Mihara spoke about the background to her becoming an intern at the NPO Hachidori Project, what work she did in that capacity, and what she felt about being an intern at an NPO. Internships tend to be seen as a little stuffy, something those high-minded individuals do, or something you do to boost your CV, but Ms. Mihara urged us to look past these stereotypes and give internships a try.
In the second half, Ms. Ōta told us about the history and activities of the Thank You Cambodia Project, which she set up while she was still at high school, as well as what prompted her to launch the project, introducing us to a little Khmer and some interesting facts about Cambodia along the way. With the COVID-19 pandemic stymying her Cambodia work, she has looked around for other ways to make a social contribution, including picking up garbage and getting involved in the "good morning" movement (which uses a cheerful morning greeting as a way to lift morale). Ms. Ōta also touched a lot on her home region of Fukushima, revealing her great affection for the area.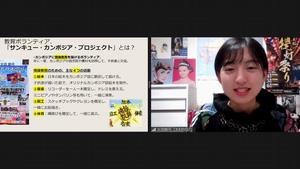 PHOTO 2: Activity introduction by Ms. Ōta
Both our speakers were very motivated and very emphatic about the importance of giving things a try. Making use of the Zoom reaction and chat functions, the seminar was very relaxed from start to finish. High school students also took part this time, continuing to ask enthusiastic questions even after the seminar.
Responding to the post-event questionnaire, participants noted, for example, that the atmosphere made it easy to speak up and that people were able to present their respective opinions and motivate each other. They were also very impressed by what 'doers' both speakers were. Overall satisfaction with the seminar was high.
This was the last event in the 2021 NPO Activities Seminar series, with our guests at the various seminars providing great inspiration. Being able to meet such great role models confronting, thinking about, and acting on various social issues brought issues that I had originally vaguely seen as someone else's problem closer and closer to home, and I began to wonder whether there wasn't something that I personally could do. I hope that other seminar participants have come to feel the same way! I want to continue to increase the number of opportunities at Ochanomizu to meet people that operate outside the orbit of our daily lives and to learn about worlds that would usually be invisible to us.
(Rinka Yamashima, first-year student, Department of Psychology,
Faculty of Human Life and Environmental Sciences)