Policies
Policies
In order to strengthen the function of training female global leaders, which is the mission of Ochanomizu University, we established the Research Organization for Promotion of Global Women's Leadership in April 2015. The Center for Leadership Education and Research, which had been the university's base for research and education about training leadership, was reorganized as the Institute for Global Leadership (former Center for Leadership Education and Research, 2008-2015) within the Research Organization for the Promotion of Global Women's Leadership.
Our university was founded in 1875 as Tokyo Women's Normal School, Japan's first institution of higher education for women, and then became Tokyo Women's Higher Normal School. Building on our 140-year tradition, the mission of the university is to foster female leaders who have a global perspective and can be successful in various fields. The Institute for Global Leadership has been engaged in various projects in order to foster such female leaders.
First, we have developed the curricula of our university and established a group of courses in order to train global female leaders.
Second, we are also engaged in a variety of education programs such as the student overseas research program, symposiums and lectures about leadership theory, and education courses for working women who want to advance their careers.
Third, as a university-wide organization to promote gender equality, we promote a project to support female researchers and develop a work environment that allows both men and women to have diverse work styles in order to realize a society where diversity is valued. For example, we have always taken on new programs such as an on-campus support system to assign research assistants to researchers who are pregnant, have a newborn baby or are caring for family members, and an original system for research fellowship (called Migakazuba Researchers).
The institute aims to contribute to the university's mission of realizing a gender-equal society as a national women's university, by training female leaders in order to promote and accelerate their international and social success.
Director, Institute for Global Leadership, KOBAYASHI Makoto
Migakazuba Philosophy
Systematizing 140 years of Leadership Education Philosophy
"Migakazuba," Spirit of profound, uncompromising self-cultivation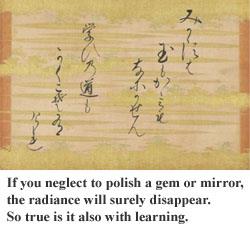 This time-honored alma mater song has been sung since 1875, when it was bestowed by the Empress Dowager Shoken upon the school soon after its founding.
Everyone possesses tremendous potential. Like a polished rough stone, people can shine if they strive to improve themselves. Precisely for this reason, if you believe in yourself, do not hold anything back, and continue growing, for you can have a dramatic effect on society. This is the migakazuba of Ochanomizu University. This philosophy is certain to support you for many years after graduation.
Intent of Logo Design – Rough Stone with Immense Possibilities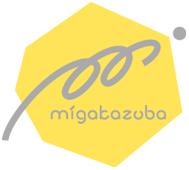 Logo
Our design represents the image of a female leader with intelligence, confidence, and respect for others. The background polygon represents the rough stone -full of various possibilities- that symbolizes students' learning at Ochanomizu University. The curved line means "Mi" of "Migakazuba" and "M" for "Make a Difference." Thus, the education at Ochanomizu University exemplifies migakazuba, or striving for refinement, and aims to foster people who can put "Make a Difference" into practice.
"Make a Difference"
Gems and mirrors shine brilliantly when polished. It is the same with people and societies. Through continual effort, things that you think will not improve may, in fact, improve. Even if you cannot make those improvements alone, it is possible to bring about changes through collaboration. If you continually improve yourself, you will change yourself, and finally you may even change an entire society. The aim is to become leaders of a new era who bring about social change by being continually aware of the issues and taking the initiative. This is certainly not difficult to do. Anyone can be a leader if he or she discovers his or her own innate abilities and develops them.
Migakazuba Competence System
Give your all in order to "Make a Difference"
Three important factors in putting "Make a Difference" into practice are
Respect for others,
Intelligence, and
Confidence.
Accordingly, of great importance is the skill to consider things from various perspectives, to think creatively, to appropriately express yourself, to make your presence known when discussing issues and making proposals, and to find a way to obtain the co-operation of others and draw out their talents.
At Ochanomizu University, you will find everything needed to foster leaders who "Make a Difference."
The "Migakazuba" spirit is edited into a "Bible (English and Japanese)" to be distributed to all students at an entrance ceremony as a principle that may guide their lives.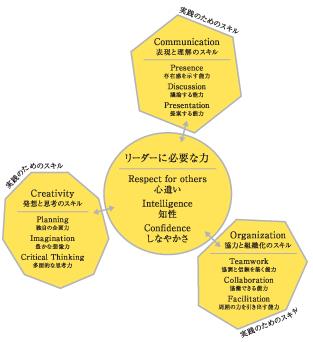 Migakazuba Curriculum
MiLe Career Design Program- Competency Training of "Make a Difference"
The aim of the program is to assist student's career development by offering several classes to improve their competency. MiLe is the abbreviation for Migakazuba Leadership.
The most important class in this program is "Introductory Seminar: the History and Mission of Ochanomizu University". It encourages students to develop their own career and demonstrates their leadership to the society.
Along with the "Introductory Seminar", currently we have 10 advanced classes that are classified into three sections: Career Skills, Career Planning, and Career Knowledge. These classes achieve three competencies, which is "interactive communication", "career planning", and "collaborative activities."
In addition, we have some extracurricular activities for practicing their skills.
We offer the competency assessment program. through self-assessment.
For further information, please visit the Career Support Center's website (http://www.cf.ocha.ac.jp/career/j/menu/education/index.html).