Culture and Society Course (taught in English)
2020年3月17日更新
Updates
7/Mar/ 2020 Schedule was updated.
7/ Feb/2020 Details of Natural Sciences and Technology was updated.
Date of the Course
 6 (Sat.) February - 20 (Sat.) Feb, 2021 [2 weeks]
Course Structure and Notes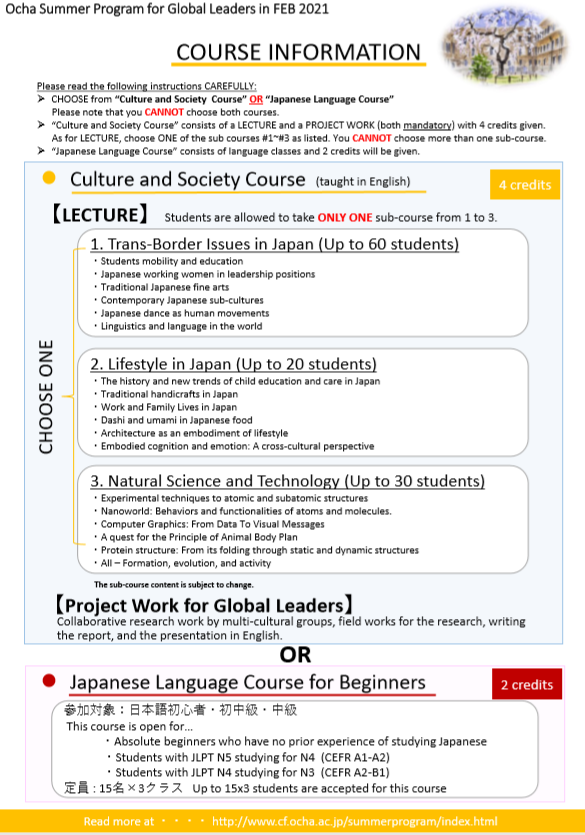 Note that for Culture and Society Course, BOTH the lecture and the project work are mandatory, and you will need to pick ONE sub-course from the lectures.
For sub-course 1 and 2 attendants, all lectures are basically introductory level, so previous experiences of the subject is not required.
For sub-course 3 attendants, the university-level knowledge of natural sciences is required.
Up to 60 students for Sub-course 1, up to 20 students for Sub-corse 2, and up to 30 students for Sub-course 3 are accepted.
Course Contents
【Lectures】 Choose ONE sub-course from the below (two credits)
Sub-course 1: Trans-Border Issues in Japan
Sub-course2: Lifestyle in Japan
Sub-course 3: Natural Science and Technology
Each course has 90 minutes x 12 classes, a field study, and a workshop.
Each course is taught by several lecturers in an omnibus style and from interdisciplinary perspectives.
More than 75 % attendance and submission of a final report are required for getting credits.
We can regard that Japan today is located in a whirlpool of globalization. Many people come in and go out, various goods and information are exported and imported, and the fundamental constitution of Japanese societies is transformed drastically, keeping some traditional dimensions. Now let's learn about the contemporary Japan from the viewpoint of trans-border issues: you will study various aspect such as culture and sub-culture, human movements, language, fine arts, international education, leadership etc.
Date
Lecturer/Topics

To be announced

(TBA)

Mayumi Mizumura

Dance as Human Movement

Human movements are affected by cultural backgrounds such as lifestyles. Japanese people has been changing their lifestyle during several decades from Japanese traditional ways to more westernized ways which would also affect our health status. Dance is artistic human movement originated from deep into cultural origins of each area or country. Let's learn about Japanese dance as human movements and enjoy Japanese culture through dancing.

TBA


Satomi Ito

Invitation to Linguistics: Seeking a Framework to Analyze any Language in the Worl

Are you struggling to master a foreign language? If you are, then you've already found that the language variety is intriguing yet cumbersome. In this lecture, I will introduce a framework to interpret and compose any language in the world: formal semantics. The talk covers Japanese, English, Chinese and hopefully, your native language!

TBA


Mami Tsuchiya

The Inside and the Outside of the Japanese Fine Arts

Japanese fine arts often seem to have strong originality. Of course, on the other hand they are also influenced and developed by images brought from the surrounding areas. In this class, I introduce several cases in Japanese fine arts, and the participants do with time to exchange views with other members about such cases.

TBA


Satoshi Tanahashi

Border-Crossing Cultures in/out of Japan

Through two sessions, we will discuss about characteristics of contemporary Japanese cultures (not of Japanese Culture) from perspectives of hybridity, conflation, appropriation and mobility. Topics to be discussed will range widely from traditional cultures to 'subcultures' today such as Hello Kitty, cosplay, manga complex, and so forth.

TBA

Field Study
TBA


Rie Okamura

Japanese Working Women in Leadership Positions from the Viewpoints of Integrating Work, Family and Education

The Japanese government has set a goal to fill 30% of leadership positions with women by 2020. In this class, we will discuss how we can achieve this goal referring results of the survey conducted by Institute for Global Leadership in 2019.

TBA


Yusuke Sakurai

Trans-Border Issues in Education: Student Mobility

This seminar lays out some major trends in student mobility, in particular, in higher education. It provides students an opportunity to develop their awareness and understanding of meanings and significances of student mobility. The seminar takes as its "object" students' experiences as those crossing border(s) to critically examine what student mobility means in the era of globalisation.

Trans-Border Issues in Education: Short-Term Intensive International Programs

This seminar, following the previous class discussion, narrows down students' focus to their experiences in intensive summer/winter program(s), one of major pedagogical formats of short-term international courses. This seminar poses the enduring question, "how do we provide high-impact educational experiences in short-term international courses?". This seminar invites students' active and reflective analyses on their own experiences as course participants of short-term international courses.
The details of "Field Study" is not confirmed. It will be announced here later.


There are various lifestyles in the world. Knowing the diversity of lifestyles leads to understanding others and rethink you. In this lecture course, lectures explain the Japanese lifestyle, taught in English by teaching staff. Students will also learn about Japanese culture, tradition, and social problem from various viewpoints.
Date
Lecturer/Topics

To be announced

(TBA)

Shoka Utsumi (Research Assistant Professor, Institute for Education and Human Development, Ochanomizu University)

テーマ:日本の幼児教育/保育の歴史と新しい潮流 The history and new trends of child education and care in Japan

内容:日本で最古の幼稚園(Kindergarten)は1876年に設立されたお茶の水女子大学附属幼稚園である。附属幼稚園は、幼児教育のさきがけとされており、子ども中心主義に基づく倉橋惣三の研究は特によく知られている。この授業では、日本の幼児教育の歴史、お茶の水女子大学の保育に関する哲学、文京区立お茶の水女子大学こども園の実践活動を紹介するとともに、施設見学とグループ内対話を通じて、保育に関する学びの機会を提供する。

Japan's first and oldest kindergarten, Ochanomizu university kindergarten opened in 1876 (F. Froebel had founded the world's first kindergarten in 1837). The class focuses on the history of early childhood education in Japan, the education and childcare philosophy of Ochanomizu University, and the recent efforts and activities at Bunkyo-ku municipal Ochanomizu university kodomo-en, providing opportunities for learning early childhood education and childcare through facility tours and group dialogues.

事前学習:参加者は、自国の就学前教育制度や自らの経験についてレビューすることをお勧めする。

Participants are encouraged to review their preschool education system and their own experiences in ECEC facilities.

TBA
Akie Naito (Project Research Fellow, Institute for Global Leadership, Ochanomizu University)

テーマ:日本の伝統手芸について Traditional handicrafts in Japan

内容:この授業は日本の伝統的な手芸に焦点を当てる。参加者は日本の伝統的な手芸の歴史と手法、応用作品について学ぶ。参加者には日本の伝統的な手芸を用いて小物作りを体験してもらう。

This class focuses on traditional handicrafts in Japan. Participants will learn about the history, techniques and works of traditional Japanese handicrafts. Participants can make accessories using traditional Japanese handicrafts.

TBA
Junko Nishimura (Associate Professor, Faculty of Human Life and Environmental Sciences: Human Life Studies, Ochanomizu University)

テーマ:日本における仕事と家族 Work and Family Lives in Japan

内容:この講義では、20世紀半ば以降の日本の仕事と家族生活の変化に焦点をあて、それらが労働市場、社会政策、人口学的要因といかに関連しているかを検討する。性別分業、育児・子育て、住宅、人口高齢化と出生率の低下等のトピックを取り上げる。

This class focuses on the changes in work and family lives in Japan since the mid-20th century, and how these changes are interacted with labor market, social policy, and demographic factors. Issues such as gendered division of labor, childcare, housing, and aging population and declining fertility will be covered.

TBA
Midori Kasai (Professor, Faculty of Human Life and Environmental Science: Food and Nutrition, Ochanomizu University)

テーマ:日本食におけるだしとうまみ Dashi and umami in Japanese food

内容:うまみは5つの基本味の一つであり、甘味、酸味、塩味、苦味に続く5番目の味である。特に和食においてはだしをとることでうまみ成分をとりだしている。三大うまみ成分は日本人が約100年前に発見し、日本食において非常に重要な役割を果たしている。授業においてはうまみの発見、だしの取り方、だしを使った和食などについて講義し、実際にかつお節と昆布でとっただしを味わってうまみ成分同士を合わせたときの相乗効果を体験してもらう。

Umami is one of the basic, or primary tastes and it is the fifth taste, joining sweet, sour, salty and bitter. Especially in Japan, umami substances are extracted by making dashi. Three major umami substances were discovered in Japan about 100 years ago and play an important role in Japanese food. The class will lecture about the discovery of umami, how to make dashi, and typical Japanse food washoku using dashi. Participants will also taste and exprerience the effect of umami synergy by combining two types of dashi that were made from katsuobushi and kombu.

TBA
Field Study
TBA
Shu Imaizumi (Assistant Professor, Faculty of Human Life and Environmental Sciences: Psychology, Ochanomizu University)

テーマ:身体化された認知と感情:比較文化的視点 Embodied cognition and emotion: A cross-cultural perspective

内容:認知や感情などの心の働きは、身体から脳へ届く運動情報や触覚情報に左右される。こうした「身体化された認知」について、心理学的・神経科学的研究の紹介をまじえて概説する。日常の経験をふり返ったり文化間を比較したりするグループワークも行う予定である。

Sensory signals from one's own body modulate cognition and emotion; for example, motor action modulates creative thinking and emotional states. This lecture introduces the concept of "embodied cognition" through recent findings from psychology and neuroscience. Group discussions will focus on everyday experiences and cross-cultural characteristics of embodied cognition.

TBA
Miki Kozaki (Assistant Professor, Faculty of Human Life and Environmental Sciences: Human-Environmental Sciences, Ochanomizu University)

テーマ:ライフスタイルの具現化としての建築 Architecture as an embodiment of lifestyle

内容:建物の建て方や材料、形は地域によって大きく異なる。それは気候、価値観やライフスタイルの違いが反映されている場合がある。この授業においては、建築学を概説するとともに地域による違いとその理由について検討する。グループディスカッションや小さいプレゼンも含む。

Materials, shapes and building construction method differ by region. These could be results of climate, values and lifestyle differences. This class introduces architecture in general, and focuses on architectural differences in region and its reasons. It includes group discussion and small presentation.
The details of "Field Study" is not confirmed. It will be announced here later.
Nature is filled with structurally diverse substrates and living creatures, which are altered in spatio-temporal manners.
The physical nature of form (structure or assembly) and its change are figured out by the scieces, especially mathematics, physics, chemistry, biology and information science, with technology. The lectures examine and explain natural science and technology and are given in English by teaching staff in Faculty of Science. The lecturers will present, in simple terms, the areas of interest in their own field of expertise. This will ensure an overall comprehensive approach.
Date
Lecturer/Topics

To be announced

(TBA)

Toshihiro KONDO

Nanoworld: Behaviors and functionalities of atoms and molecules.

Contents: "Nano" world means very very small one, namely world of atoms and/or molecules. How do you think that atoms and molecules have shape? If so, do those shapes change with time?
In this lecture, "nanoworld" is briefly explained as a first, simple discussion about atoms and molecules are performed by several groups, and then, those results and shape and time of atoms and molecules are discussed at all.

TBA
Takanori KONO

Experimental techniques to atomic and subatomic structures

Radiation facilities, i.e. particle beam accelerators and synchrotron radiation facilities, are used in many areas of science.For example, structure and functionalities of various materials are explored
with X-ray diffraction and various spectroscopic measurements.Subatomic structures and the fundamental particles and their interactions have been discovered by high energy particle accelerators.
In this lecture, we will review the principles of typical experiments using particle beams and discuss key concepts to understand what can be learned with such experiments.

TBA
Masahiro MORIKAWA

All about Singularities in the Universe and Physics ‐Formation, Evolution, and Activity

The Universe is filled with a variety of structures. The most extreme would be the singular space-time structures such as the Black Holes and the Big Bang of the Universe. Despite being extreme, they are often essential functions to yield highly organized structures in the Universe. The singularities are not limited to the Universe but also appear everywhere in Physics. We will have plenty of discussions on a) how are they predicted from Physics theories, b) when are they actually formed in nature, and c) what would happen when one attempts to approach near to them.

TBA
Takayuki ITO

Computer Graphics: From Data To Visual Messages

Recent computer graphics techniques archived realistic and fine representations.It has the power to convert data into visual messages.

The former part of this class introduces fundamental computer graphics techniques which are used to various industries including engineering design and entertainments.

The latter part introduces information visualization techniques which make visual representation of daily information.

TBA
Field Study:Origami Kaikan and Tokyo Waterworks Historical Museum
TBA
Masayuki HATTA

Axes and Symmetries in Animal Body Plan

Diverse animals are derived from a single ancestor in evolution.This fact suggests that various animal forms are all derivative and that a common ancestral body plan should be hidden in their
morphological diversity. What is the principle of animal form, the body plan? Animals are moving organisms in the planet Earth. This condition has given the axis and symmetry to animal forms. We try
to extract the simple principle of animal body plan from diverse animal morphogenesis by focusing on the axis and symmetry.

TBA
Kei YURA

Protein structure: From its folding through static and dynamic structures.

The protein plays a major role as an element in forming structure of organisms. The protein is a single chain molecule and its blueprint is encrypted in DNA.
Recent studies in computational and molecular biology unveiled how information in DNA converted into a structure of a protein and how proteins perform function in a cell. This lecture gives a brief
overview of the information flow and mechanisms of protein function through its structure.
【Project Works】 (2 credits)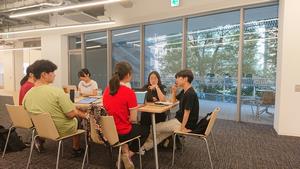 The Project Work aims to conduct project works through the collaboration of Ochanomizu University students and overseas partner university students. In groups, students will discuss to fix the project theme of the group, schedule the research work, make an oral presentation in a group. Through this work, students will experience and be trained on project planning, proceeding, synthesizing the results through multi-cultural opinion exchanges, and gain necessary skills to develop their career in the globalizing world. One part of the class is going to be done virtually using IT tools.
There are going to be special lectures from leaders in order to give a tip to proceed in group.