Application
10.01.2023 Update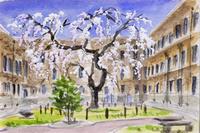 NOTES: At present, we accept students only from our partner universities (See https://www.ocha.ac.jp/en/international/index.html) from abroad.
For ones living in Japan, we can accept as REGISTERED STUDENTS (See https://www.cf.ocha.ac.jp/summerprogram/news/d005631.html) even if they are not students of our overseas/domestic partner universities, but in that case WOMEN ONLY, tuition fee must be paid, and extra services (eg. accommodation service) are not provided.
We appreciate for your understanding.
Process of Application
Step1: Nomination
Students who want to attend the Program must contact the person in charge at each partner university. The nomination process will be emailed to the person in charge at the the middle of January.
The deadline for the nomination will be February 28, 2023
We will send you the results of the screening process to the person in charge at each partner university at the end of April, 2023.
- Students who were selected as participants

Step 2: Registration and Payment
Participants must make payment of the registration fee (10,000 JPY: non-refundable) by May 7, 2023.

Program Fee
Registration fee: 10,000 JPY  (Non-refundable) / Tuition fee: Waved for partner's universities
Registration fee needs to be paid at the time of application to Ochanomizu university and will NOT be refunded.
Travelling costs to Tokyo, accommodation fee, and living costs (daily meal, transportation from the accommodation to Ochanomizu University, etc.) must be paid by students.
Depending on circumstances, scholarship may be awarded to selected students.
Cancellation
For those of you who were already accepted to join the Ocha Summer Program, if you wish or need to withdraw from the program, you must contact Ocha Summer Program office through the person in charge at home university.
Please note that the registration fees already paid will NOT be refunded for any reason whatsoever.
Important Dates for Participation (for 2023 Summer Program)
Tuesday, 28 February

Deadline for Nomination
*Required Materials : ①Face picture in jpg file format

②Scanned copy of college or university official transcript

③Scanned copy of passport(ID) bio-page

④Motivation paper

At the end of April

Announcement of Screening results

Sunday, May 7
(1) Deadline of Registration

(2) Deadline of Payment