Subject Based Course (taught in English)
2023年6月13日更新
Course Contents
【Subject Based Course】 Choose ONE sub-course from the below
Sub-course 1: Advances in Natural Sciences
Sub-course 2: Gender, Globalization and Diversity in Contemporary Japan
Sub-course 3: Japan Society and People : Insights on Some Selected Contemporary Challenges
Sub-course 1: Advances in Natural Sciences
Research in natural sciences is advancing day by day. This subcourse provides lectures comprising five subjects to learn about recent advances in several areas of natural sciences: mathematics, physics, chemistry, biology, and computer science. Students can learn about each subject from basics to the latest topics through this subcourse.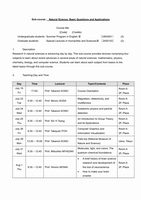 Sub-course 2:Gender, Globalization and Diversity in Contemporary Japan
This course looks at how contemporary Japanese society is changing in the context of globalization and demographic and social challenges, including population aging and shrinking, with a special focus on the consequences of these changes for gender and diversity. From social welfare to employment, immigration to women's representation in politics, contemporary Japan is facing a range of policy and social issues that will shape Japanese society in the coming decades. How is Japan adapting to our changing world, and what challenges and hurdles remain going forward?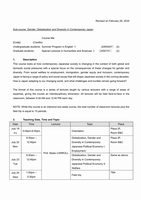 Sub-course 3:Japan Society and People : Insights on Some Selected Contemporary Challenges
This course consists of the following 5 topics.
Let's talk about SCHOOL LUNCH!
WASABI (Japanese horse radish), real smell and taste
Women's Political Representation in East Asia
LGBTQ+ in Contemporary Japan
PHYSICAL ACTIVITY AND HEALTH IN JAPAN:CONTEMPORARY CHALLENGES

関連ファイル / Related Files
»

20230501_Website_Subject Based Course_Natural Sciences(PDF形式 169キロバイト)
»

20230523_Website_Subject Based Course_Gender(PDF形式 238キロバイト)
»

20230703_Website_Subject Based Course_JAPAN SOCIETY AND PEOPLE(PDF形式 222キロバイト)
PDFファイルの閲覧には、Adobe Acrobat Reader DC(新しいウインドウが開き、お茶の水女子大学のサイトを離れます)が必要です。