【IGL ONLINE Student Symposium】 (December 4, 2020)
2020年11月30日更新
Student Perspectives on Education and Gender Issues in Japan and Italy in the Context of Problems Posed by COVID-19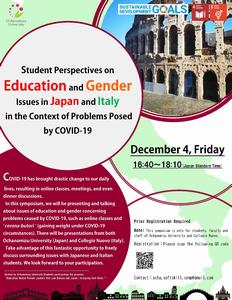 (PDF)
This program of Ochanomizu University, "Educating Global Female Leaders that Link Europe and Japan - Acquiring Soft Skills" is designed and organized by Institute for Global Leadership to develop the next generation of women leaders. Students take advantage of a variety of opportunities inside and outside the university to practice leadership skills that they have learned in class and seek to explore leadership in a broader sense than just personal growth, finding their own themes while being aware of contemporary issues in the context of society and communities, such as the SDGs set by the United Nations Summit. As part of this program, a student symposium will be held with students from Collegio Nuovo, a women's college at the University of Pavia, Italy. The theme is "Student Perspectives on Education and Gender Issues in Japan and Italy in the Context of Problems Posed by COVID-19." The students lead the planning, organization, and presentation of the symposium.
The event will be held online (Zoom), so please join us.
Note: This symposium is only for students, faculty and staff of Ochanomizu University and Collegio Nuovo.
Date and time: Friday, December 4, 16:40–18:10
Venue: Online (Prior registration required)
Language: English
Registration: Please apply through the following URL: 
https://forms.gle/GTXQeQrYZ88pzK5E8
| | |
| --- | --- |
| 16:40-16:50 | Opening Remarks |
| 16:50-17:05 | Presentation on Quality Education by Ochanomizu University |
| 17:05-17:20 | Presentation on Gender by Ochanomizu University |
| 17:25-17:35 | Presentation by Collegio Nuovo |
| 17:35-18:00 | Discussion |
| 18:00-18:10 | Closing Remarks |
Hosted by Ochanomizu University Students participating the program; "Educating Global Female Leaders that Link Europe and Japan - Acquiring Soft Skills"
関連ファイル / Related Files
»

softskill(PDF形式 912キロバイト)
PDFファイルの閲覧には、Adobe Acrobat Reader DC(新しいウインドウが開き、お茶の水女子大学のサイトを離れます)が必要です。