Ochanomizu University X Cartier Symposium (June 12, 2019)
2019年4月24日更新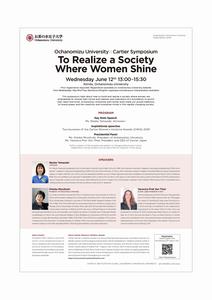 (
PDF
)
~To Realize a Society Where Women Shine~
This symposium talks about how to build and realize a society where women are empowered to choose their future with passion and inspiration as a foundation to enrich their heart and mind. Ochanomizu University and Cartier both share proud traditions, brand power, creativity and innovative mindset in this rapidly changing society.
【Date】 Wednesday June 12th 13:00-15:00
【Venue】 Kiindo, Ochanomizu University
Prior registration required
Registration available on Ochamonizu University website from Wednesday, May 8th
Free Admission
English-Japanese simultaneous interpretation available
Program
Key Note Speech :Ms. Naoko Yamazaki, Astronaut
Inspirational speeches :Two laureates of the Cartier Women's Initiative Awards (CWIA) 2019
Presidential Panel :
Ms. Kimiko Murofushi, President of Ochanomizu University
Ms. Veronica Prat Van Thiel, President and Chief Executive Officer of Cartier Japan
*The contents of the program are subject to change without prior notice.
Registration will be closed once we reach the full capacity of the venue.
Speakers
Naoko Yamazaki, Astronaut
Ms. Naoko Yamazaki graduated from Ochanomizu University Senior High School in 1989. She received a bachelor's degree in Aerospace Engineering in 1993 and a master's degree in Aerospace Engineering in 1996, both from the University of Tokyo. After receiving a master's degree, she joined National Space Development Agency of Japan (NASDA, now JAXA) and was selected by NASDA as one of three Japanese astronaut candidates for International Space Station (ISS) in February 1999. She was certified as an astronaut in September 2001. In April 2010, she flew to the space on the shuttle Discovery as part of the mission STS-131 and became a second Japanese woman to fly in the space. After retiring from JAXA in August 2011, she became a member of the Cabinet Office Space Policy Committee and a visiting professor at several universities. She also published some books in Japanese.

Kimiko Murofushi, President of Ochanomizu University
Dr. Kimiko Murofushi received her Ph.D. in Medicine from The University of Tokyo in 1976 and the master's degree from Ochanomizu University in 1972. After receiving the Ph.D., she became a Research Associate of The Public Health Research Institute of the City of New York. From 1996 she has successively served as a Professor, a Dean, and a Trustee, at the Ochanomizu University. Since April 2015 she has been the President of Ochanomizu University. In 1999 and 2005, she was a Visiting Professor at Université de Strasbourg (formerly known as Université Louis Pasteur) and given a Chevalier dans l'Ordre des Palmes Académiques in France. She was the Board Member of both Bridgestone Corporation (2011-2015), and the Governors of Japan Broadcasting Corporation (NHK; 2013-2016). From 2016 she is a member of The Liaison Conference for the Promotion of Gender Equality of Cabinet Office. She also established a university-led venture company in 2012. Her specialized field is Cell biology, Biochemistry, and Science educatio
Veronica Prat Van Thiel, President and Chief Executive Officer of Cartier Japan

After graduating the ESCP Europe Management School in Paris in 1996, Veronica Prat Van Thiel began her career in Marketing & Sales area followed by a career in Management Consulting. She joined Cartier in 2000 as Project Coordinator in the Organization Department at the Head Office in Paris. She was promoted to a Director in 2002 and became Retail Director in Cartier UK later on. In 2014, she was relocated to Tokyo as Retail Director of Cartier Japan and contributed to the strong retail business development and the implementation of the new retail strategies in the market. Veronica took over her current role in February 2017.
~About Cartier~
Founded in 1847, Cartier is one of the world' s most esteemed houses of luxury, designing and manufacturing exclusive collections of fine jewelry, wristwatches and prestige accessories, distributed through close to 300 Cartier boutiques worldwide
~About Cartier Women's Initiative Awards~
Cartier Women' s Initiative Awards is an annual international business plan competition that aims to identify, support, and encourage businesses led by Women entrepreneurs. Created in 2006 by Cartier in partnership with INSEAD Business School, McKinsey & Company, and Women's Forum (until 2016). Cartier Awards selects 21 finalists from 7 regions: Latin America, North America, Europe, Sub-Saharan Africa, Middle East & North Africa, South Asia & Oceania, and East Asia. Cartier is accepting applications from innovative and impact driven women entrepreneurs. Call for Applications for the 2020 Edition will start at the end of May to the beginning of June 2019.
https://www.cartierwomensinitiative.com(新しいウインドウが開きます)
関連ファイル / Related Files
»

cartier_flyerE(PDF形式 130キロバイト)
PDFファイルの閲覧には、Adobe Acrobat Reader DC(新しいウインドウが開き、お茶の水女子大学のサイトを離れます)が必要です。