Special Lecture in Summer Program 2023 "Navigating the Ever-changing Global World"
2023年7月4日更新
The Special Lecture by Caroline F. Benton
<<Navigating the Ever-changing Global World >>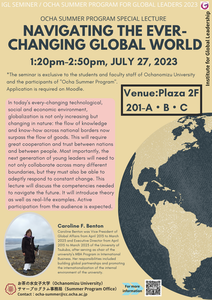 Date : Thursday, 27 July, 2023
Time : 1:20pm - 2:50pm
Venue : Room Plaza 2F 201-A・B・C
Language : English
Guest Speaker : Caroline F. Benton (Professor at the university's Institute of Business Science, University of Tsukuba)

Moderator : Minako Kuramitsu (Ochanomizu University)
Application is required on Moodle. (click here)
*The seminar is exclusive to the students and faculty staff of Ochanomizu University and the participants of "Ocha Summer Program".

Navigating the Ever-changing Global World
In today's every-changing technological, social and economic environment, globalization is not only increasing but changing in nature: the flow of knowledge and know-how across national borders now surpass the flow of goods. This will require great cooperation and trust between nations and between people. Most importantly, the next generation of young leaders will need to not only collaborate across many different boundaries, but they must also be able to adeptly respond to constant change. This lecture will discuss the competencies needed to navigate the future. It will introduce theory as well as real-life examples. Active participation from the audience is expected.
Caroline F. Benton
Caroline Benton was Vice President of Global Affairs from April 2013 to March 2023 and Executive Director from April 2015 to March 2023 of the University of Tsukuba, after serving as chair of the university's MBA Program in International Business. Her responsibilities included building global partnerships and promoting the internationalization of the internal environment of the university.
Currently, she is a professor at the university's Institute of Business Science. She is also Advisor to the President on Global Matters and serves on various committees including the Council for National Research and Development Agencies of the Ministry of Education, Culture, Sports, Science and Technology, the Japanese Association of National Universities' International Exchange Committee as an expert member, the International Olympic Committee's Education Commission, the Research Organization for Information and Systems' Education and Research Council, and the Japan-US Education Commission (Fulbright).
Her research interests lie in knowledge management, global leadership, and subjective well-being; her research projects include a 12-country study on the learning mechanism of global leadership competencies, a comparative study on global-mindedness in youth, and most recently a Japanese government-funded study on well-being and happiness in corporations.

Co-organizer : Institute for Global Leadership
Contact : Summer Program Office ( ocha-summer@cc.ocha.ac.jp )
関連ファイル / Related Files
»

2023SummerProgramTheSpecialLecture(PDF形式 3,550キロバイト)
PDFファイルの閲覧には、Adobe Acrobat Reader DC(新しいウインドウが開き、お茶の水女子大学のサイトを離れます)が必要です。