Special Lecture in Summer Program 2023 "What defines a global leader?"
2023年7月4日更新
The Special Lecture by TANAKA JUNKO
<<What defines a global leader?>>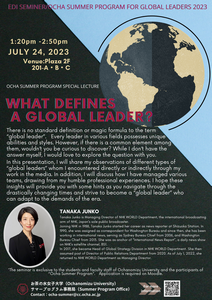 Date : Monday, 24 July, 2023
Time : 1:20pm - 2:50pm (JST)
Venue : Room Plaza2F 201-A・B・C
Language : English
Guest Speaker : TANAKA JUNKO (Managing Director, NHK WORLD Department, NHK (Japan Broadcasting Corporation))

Moderator : Hirano Misako (Ochanomizu University)

Application is required on Moodle. (click here)
*The seminar is exclusive to the students and faculty staff of Ochanomizu University and the participants of "Ocha Summer Program".

What defines a global leader?
There is no standard definition or magic formula to the term "global leader". Every leader in various fields possesses unique abilities and styles. However, if there is a common element among them, wouldn't you be curious to discover? While I don't have the answer myself, I would love to explore the question with you. In this presentation, I will share my observations of different types of "global leaders" whom I encountered directly or indirectly through my work in the media. In addition, I will discuss how I have managed various teams, drawing from my humble professional experiences. I hope these insights will provide you with some hints as you navigate through the drastically changing times and strive to become a "global leader" who can adapt to the demands of the era.
TANAKA JUNKO
Tanaka Junko is Managing Director of NHK WORLD Department, the international broadcasting arm of NHK, Japan's sole public broadcaster.
Joining NHK in 1988, Tanaka Junko started her career as news reporter at Shizuoka Station. In 1990, she was assigned as correspondent for Washington Bureau and since then, she has been working in international news, serving as Sydney Bureau Chief from 2006, and Washington Bureau Chief from 2013. She was as anchor of "International News Report", a daily news show on NHK's satellite channel, BS1.
In 2017, she became Head of Global Strategy Division in NHK WORLD Department. She then assumed post of Director of Public Relations Department from 2020. As of July 1, 2022, she returned to NHK WORLD Department as Managing Director.

Co-organizer: EDI Program Office, Center for International Education
Contact : Summer Program Office ( ocha-summer@cc.ocha.ac.jp )
関連ファイル / Related Files
»

2023SummerProgramTheSpecialLecture(PDF形式 6,282キロバイト)
PDFファイルの閲覧には、Adobe Acrobat Reader DC(新しいウインドウが開き、お茶の水女子大学のサイトを離れます)が必要です。